Resume Breakpoint Addressable LED Tape
Product Parameter:
| | | | | | | | |
| --- | --- | --- | --- | --- | --- | --- | --- |
| P/N | Size/m | Voltage | Power | IC | IP | LED Qty | MCD per meter |
| S601914DV5 | 1000*10mm | DC5V | 16W/m | TM1914D | IP20/IP65 | 60leds/m | R500-800 G1400-2000 B300-600 |
---
Features :
1.It's double data cascade transmission,four PIN connection, address written needless but to resume broken transfer,
2.Self detect the broken data loss,avoid the impact of some led breakdown,
3.The C1C2 data verification to improve anti-jamming capability , as a channel to detection and exclude the problems in the production(Short ,off),
4.The chip can systemize data and transfer it automatically, no signal attenuation even though long distance cascade,
5.Tm1914 control circuit and the 8 pads RGB 5050 SMD led component TM1914D, to form a complete control of pixel,
6.Encapsulate with TM1914A-SOP8,then it's compatible the PIN-TO-PIN. Cascading divider resistance to make led.
Operating principle of TM1914:
1.There are double signal channels,DI and FDI. Let's choose one pixel and label it N as a research point.
2.DI get the data from N-1 pixel, FDI get the data from N-2 pixel.
3.When N pixel has one of the channel broken, it will change another channel automatically.
4.If both channels are broken in the same time, this pixel will not work and not transfer the data,
but the N+1 pixel will use FDI to transfer data from N-1 and throw away the data from N,it will avoid the
data loss after led breakdown.
---
Comparative Advantage
: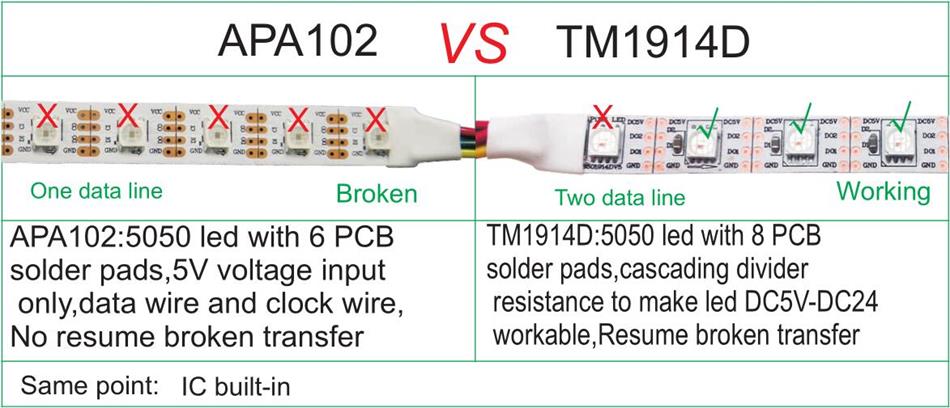 ---
Connection: